Monday - Friday
8am-5pm

Saturday - Sunday
12pm - 5pm
The Evolution of Porky Goodness Sauce
Porky Goodness began as a gift in a Mason jar. In my experience, the most wonderful and cherished homemade things come in those little jars, like my great-grandma's green beans. 
I started making the sauce nearly a decade ago and giving it to friends as a holiday gift. They would send me photos of their sad faces next to their empty jars, so I made more batches because I realized nothing made me happier than seeing other people enjoy my sauce. 
North Carolina transplants told me it reminded them of their beloved vinegar sauces back home. I also heard the sauce had a tangy kick and a simple style reminiscent of Texas barbecue. Another buddy said it reminded him of a sauce you'd find on a table in an Alabama roadside barbecue shack. 
All of their comparisons referenced nearby states renowned for their signature sauces. I thought to myself, "Why isn't anyone talking about Georgia?" So, this is my Georgia barbecue sauce – a tangy tomato and peppery vinegar mix of good ol' Porky Goodness. 
While it no longer comes in a Mason jar, we still use the same small-batch production methods. No high-fructose corn syrup or preservatives added.
I hope you like the sauce! If you do, take a photo and tag us @porkygoodness on Instagram. I'd love to see your smiling faces and your delicious food!
Thank you! - Katie
 -----
Porky Goodness, LLC is Athens's first female-owned barbecue sauce company. Katie Throne is a University of Georgia graduate and long-time Athenian who loves to cook, especially barbecue!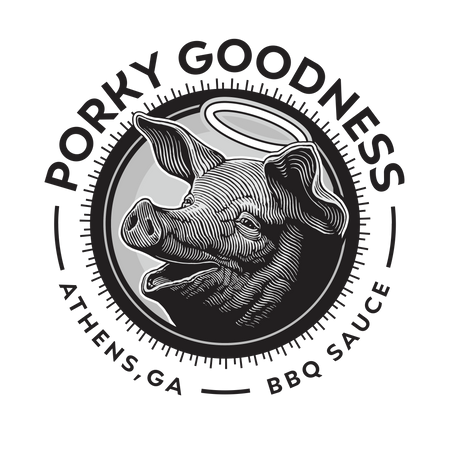 Follow us